International Ordinary Mail
Take advantage of International Ordinary Mail to mail items without the need for priority delivery and extra secure handling.
New rules for the accompanying customs declaration forms CN 22 or CN 23
Starting from 01 June 2021, letters containing a written communication and weighing up to 50 g ARE THE ONLY CONSIGNMENTS TO NON-EU DESTINATIONS THAT DO NOT HAVE TO BE ACCOMPANIED BY A CUSTOMS DECLARATION FORM. All other consignments must be accompanied by a customs declaration form.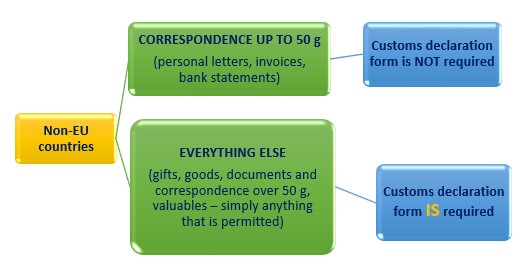 By attaching a correctly completed customs declaration form to your consignment, you will prevent complications, such as return of consignment due to the absence of customs clearance data, longer duration of transportation and customs clearance, and make the whole delivery process faster. Consignments containing documents should be indicated by checking the 'Documents' box in the 'Category of item' section of the form.
Ideally, submit all address, contact, and customs clearance data for your consignments online, e.g. using the application Send Consignment. This will give you access to many benefits including:
Postage reduced by of up to CZK 8 for letters;
Completion of the CN 22/CN 23 customs declaration form for consignments destined to countries that require such a form;
Sending a certificate of posting to your email address;
Faster posting at a post office by using a generated code;
Use of implemented automatic word completion boxes and checking mechanisms;
Absence of errors due to the copying of data from paper forms;
Correct and complete posting data guarantee a shorter overall duration of transportation and problem-free customs clearance and delivery.
If you are interested in further new information about foreign services, you can click here to read it.
Description
International Ordinary Mail meets the needs of private or business users mailing actual and private correspondence as well as other things abroad. There is no compensation for International Ordinary Mail.
What can I post?
Closed package with inserted contents.
Unfolded paper card, postcard or picture card.
Benefits
Fast and simple – do not bother about any posting or delivery certificate.
Posting anywhere – you can post your International Ordinary Mail simply at any post office, with any authorised postal staff or by putting it in a post box anywhere.
Parameters
| Parameter | Description |
| --- | --- |
| Certificate of posting | No |
| Certificate of delivery | No |
| Compensation | No compensation for lost, damaged or part loss items. |
| Maximum weight | 2kg |
| Minimum size | 14x9cm (scrolls: 14cm length, 3cm diameter) |
| Maximum size | Maximum length 60cm, the maximum sum of length, width and height may not exceed 90cm. |
Pricing
Valid from the 1st of January 2022
Basic price
Basic price
Price in CZK
European countries
Non-European countries
hWeight
EU destinations
Non-EU destinations

up to 50g inclusive

39
39
45

up to 100g inclusive

58
58
65

up to 250g inclusive

100
111
132

up to 500g inclusive

142
153
204
up to 1kg inclusive
239
250
347

up to 2kg inclusive

408
419
601
Discounts
Discount in CZK per consignment

Discount for delivery of posting data in electronic format (Electronic Bulk Posting Form or Data File) – Insured Letters to non-EU destinations weighing more than 100 g

8
This basic postal service is VAT-free.
Payment
With postage stamps, in cash at post offices or to authorised postal staff, contractual customers also by direct debit or franking machine.
You pay no postage for the so-called International Reply Mail sent to a foreign addressee who agreed with the postal operator at the destination country to pay it on delivery. If you are a Czech addressee, you can use a similar service as a contractual customer of the Czech Post.
Posting
You can post your International Ordinary Mail at any post office, by handing it over to authorised postal staff or by putting it in a post box anywhere.
Delivery
International Ordinary Mail will be delivered by the foreign postal operator without any certificate of delivery.
If your item cannot be delivered by the foreign postal operator, you will, without any useless delay, get it back with a note describing the reason why it could not be delivered.