Stamps with coupons for additional prints
A simple way to make your friends happy.
They are also a good way to advertise your company or products.
Just use envelopes and stamps with your company logo or other details
Because of the long history and huge volumes of stamps postal administrations have traditionally been very careful about who or what should appear on the faces of stamps. You could not think of the idea of seeing your own face or your company logo on stamps.
But now there is nothing that could prevent you from using your own stamps with personalised coupons showing any picture, drawing or text. Why not use a photograph of yourself, your friends, children, or of your car or house.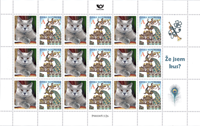 Set your imagination on fire!
Sheets of stamps with coupons
You can buy sheets of 9 stamps plus 9 coupons with the same motif. A different text or picture may appear on the other 2 coupons in the right hand side of the sheet.
Coupons used without stamps are invalid. You must affix both the coupon and the stamp on envelopes or postcards to be accepted by post.