Mobile application Online Postcard
Smartphone users can now send their own picture cards printed on paper
A test run of a new mobile application Online Postcard has started. Online Postcard allows smartphone users to send any photograph to be delivered to the recipient as a classic picture card.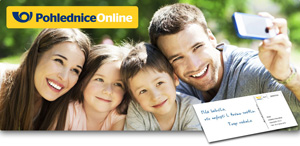 The project is a combination of modern technology with the classic form of picture cards. The free application for Android phones, which will also soon be available for iOS phones, enables the users to send an image or photograph together with their own text. The application offers four default colours, letter fonts and sizes. The user can define the front and back side of the picture card and its size. The picture card will be printed and delivered the next working day after payment. It will be delivered in the same time limit as a classic picture card. The same picture card can be sent up to 10 addresses at the same time.
The price of a picture card sent to any address in the Czech Republic is CZK 25 (for users of Czech Post's Customer Card) for the standard A6 or DIN long (DL) size. The price of a picture card with the large A5 size is CZK 29. The price can be paid by payment card. The payment procedure is the same as for online shopping.