Back
Content is not available in english
Česká pošta vydává 9. listopadu 2016 příležitostnou poštovní známku v nominální hodnotě 32 Kč, kterou si připomíná 70 let od založení organizace UNESCO. Už v září 2016 si přitom Česká pošta připomněla dvě památky z České republiky, zařazené na seznam světového kulturního dědictví, a to Pražský hrad a zámek Lednice.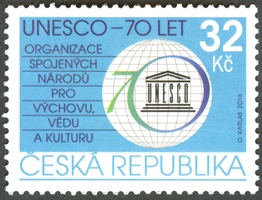 Známka z dílny výtvarníka Otakara Karlase a rytce Bohumila Šneidera je tvořena logem UNESCO, zakomponovaným do číslice 70. Je tištěna plnobarevným ofsetem, a je v nominální hodnotě 32 Kč. Známka vychází v nákladu 500 tisíc kusů. Známku si mohou zájemci zakoupit na všech filatelistických přepážkách (tedy tam, kde mají pošty svou specializovanou přepážku), na webových stránkách České pošty a dále na vybraných poštách.
Česká pošta už 7. září 2016 vydala dvě unikátní známky s českými památkami, zapsanými na seznam světového kulturního dědictví. "Běžně vydáváme známky ve formě klasické rytiny, v případě známek OSN šlo o tzv. fotoznámky s motivem Prahy v nominální hodnotě 27 Kč a zámku Lednice v nominální hodnotě 16 Kč. Autorem fotografií je Libor Sváček. U nás je tato forma raritou, ale protože je to poprvé, co je Česko na známkách OSN, udělali jsme výjimku," uvedl Břetislav Janík, šéf známkové tvorby České pošty.
Organizace OSN pro výchovu, vědu a kulturu (anglicky United Nations Educational, Scientific and Cultural Organization, UNESCO) je jedna z 15 mezistátních odborných organizací OSN. Sídlí v Paříži. Podnětem ke vzniku organizace byly hrůzy právě skončené druhé světové války. Hlavním úkolem UNESCO bylo proto usilovat o udržení mezinárodního míru rozvíjením spolupráce v oblasti výchovy, vědy a kultury a prosazováním úcty k lidským právům a právnímu řádu.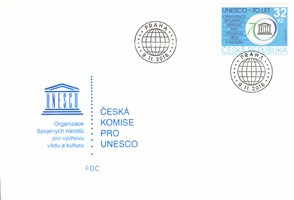 Vznik UNESCO byl zahájen podepsáním Ústavy v Londýně na ustavující diplomatické konferenci 16. listopadu 1945. Ústava pak vstoupila v platnost 4. listopadu 1946 po její ratifikaci zakládajícími dvaceti státy: Austrálie, Brazílie, Československo, Čína, Dánsko, Dominikánská republika, Egypt, Francie, Indie, Jižní Afrika, Kanada, Libanon, Mexiko, Norsko, Nový Zéland, Řecko, Saúdská Arábie, Spojené království, Turecko a USA.
V současné době má Česká republika 12 památek, zapsaných na seznam světového kulturního dědictví. Patří mezi ně historická centra měst Český Krumlov, Telč, Praha, Kutná Hora, poutní kostel sv. Jana Nepomuckého na Zelené Hoře ve Žďáru nad Sázavou, Lednicko-valtický areál, vesnická rezervace Holašovice, zahrady a zámek v Kroměříži, zámek a zámecký areál v Litomyšli, olomoucký Sloup Nejsvětější Trojice, brněnská Vila Tugendhat a židovská čtvrť a bazilika sv. Prokopa v Třebíči.
Matyáš Vitík
tiskový mluvčí
Česká pošta, s.p.
vitik.matyas@cpost.cz